Small Business

From the home-based small business (sole ownership) to multinational corporations, we are able to share our expertise at affordable rates. No job is too big or too small for the team at Studio6.ca.

1. Basic Design Solution
Includes web sites with XHTML, XML, ASP, PHP or HTML, PDF, whatever else is convenient for your e-business needs. We can include custom graphic design, custom web design with Flash, Photoshop etc. To find out more please visit our web design page.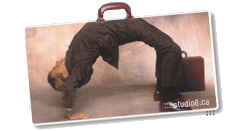 2. Intermediate Design Solution (IDS)
Basic Design Solutions BDS plus optional IDS can be pre customized for your company. Personal use authoring tools will give you the opportunity to produce real-time changes, updates, add new web pages, change or delete web pages inside the site and can be done from anywhere on the internet. These various ideas are the most common solutions.

3. Advanced Design Solution (ADS)
Includes Intermediate Design Solutions - IDS with option to integrate pre customized web database architecture pre configured for your e-business needs.



4. Enterprise Design Solution (EDS)
Includes Advanced Design Solution - EDS with on-line shopping chart, search engine, customers' database and reports plus all other extra features are included with these various e-business solutions.

5. Content Management (CM)
Development Content can be integrated with any of these e-business solutions.

6. Other Custom Solution (OCS)
Other custom solutions specialized for your business needs, custom scripts, forums, news, online orders, web search submissions and search engine optimization, email marketing, link partners, affiliate programs, pay-per-click campaigns, rapid changes, reporting, monitoring, maintenance and more can be discussed and organized depending on your business requirements and your interactive web site maintenance budget.

e-business
THE PROCESS
We at studio6.ca have developed a six-step process to ensure project success! We believe the success of your e-business will depend on hearing what you have to say.

1. Listening
We will meet with you and listen to your vision of success for your e-business. We want to hear about your immediate and your future objectives, your technical infrastructure and insight on your competitors. We will listen first to your e-business needs, whether you are a small business or large business, we will then analyze the appropriate procedure, and respond accordingly.

2. Collaboration
- Once we have met and agreed on your current and long-term business goals. We will communicate with you to define the strategy, objectives, and prepare the functional, technical, and creative requirements. We will then build a prototype based on our collaborative efforts.

3. Architectural Design
For e-business solutions: We will define the workflow rules and e-business logic that will support your e-business processes.
We will design your e-business architecture with the latest Internet technology that will drive and automate the rules and logic. We will also complete all documentation for your project at the same time.
For Web Site Design: We will design the web site architecture and web management for easy navigation, again using the latest internet and internet marketing technology.

4. Implementation
After completing the design and building the final Product, we will work closely with you through the testing, tuning and deployment of your e-business or web design solution.

5. Analysis
- After a successful launch, we will over-see and monitor the behavior of your e-business or web design solution. We evaluate the results against the agreed-to-criteria developed during each collaboration step. We will help you prepare for your next level of your e-business computing.

6. Optimization
We will help you prepare for your next level to optimize your web site, make the appropriate keywords research and submit to top internet search engines. We will monitor your site behavior until you are one of the top ranking places on google, msn and yahoo. We also will submit your site to other search engines of your choice.

Home
theme
B2B
small business
software
project management
Web Design
web site design
internet marketing
custom web design
web design quote
FAQ
SEO
keywords
ranking
SEO Quote
SEO Glossary
XML
wireless internet
XML Glossary
Contact us
Site Map
testimonials
Links
terms & conditions
Privacy
Suggestions